April 5th
10AM Pacific / 1PM Eastern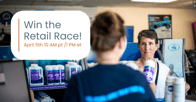 Win The Retail Race!
Give your retail counter the tools to win! With a fast, easy and secure point of sale your retail personal will be ready for this busy season. Join us April 5th and see the new, better and faster LOU POS version 2 live!
Watch in real time how to utilize:
❯

Split Pay

❯

Pay On Account

❯

Bill Me Later

❯

Tap To Pay

❯

Inventory Look Up

❯

Customer History

❯

Customer Profile
May 10th
10AM Pacific / 1PM Eastern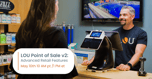 LOU Point of Sale v2: Advanced Retail Features
It's Saturday morning and your retail counter has a line out the door! Now, more than ever, you need speed and simplicity at check out. Join us Wednesday May 10th at 10AM pac / 1PM est to see LOU POS version 2 including improved design and more features including split pay, pay on account and bill me later.