Here at Evosus Software, we believe in loving where you work. We scoff at the idea of work being boring and jobs being a necessary evil. We laugh at the concept of tolerating co-workers. We pity those that dread going to work and despise what they do. How can we not? At Evosus, we foster a company culture of positivity and gratitude. We encourage collaboration and welcome feedback. Laughter is heard daily at the office (usually from Development) and employees are regularly plied with doughnuts, zucchini, and other goodies. This happy work environment is apparent year-round, but especially during our annual company event, Spirit Week.
Yes, you heard that right: Spirit Week. It's not just for jaded high schoolers -- it can also be a great excuse for companies to celebrate milestones and have fun. Apart from that, there are actual business reasons why having a happy company culture is beneficial to your business: studies have shown that work culture directly impacts productivity. A happy work environment reduces stress on employees, leading to a lower turnover rate and better company performance. Everyone wins!
Evosus holds an annual Spirit Week event at the beginning of every August to celebrate corporate milestones and reward employees for their hard work. This event doubles as a team-building exercise, allowing for camaraderie to develop between our staff. During Spirit Week, we also hold a company-wide scavenger hunt that pits department against department. A little competition has never hurt anyone, right?
BBQ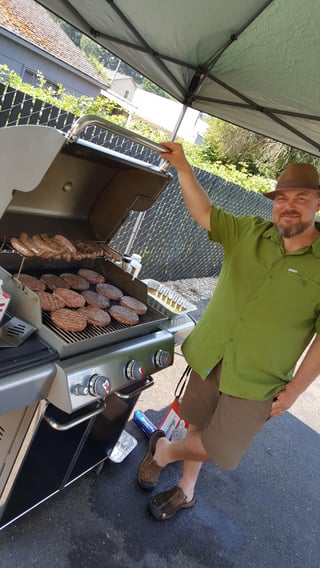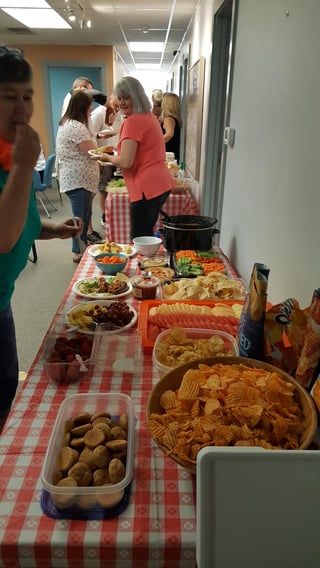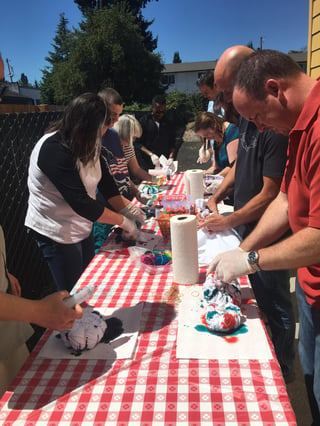 Like I said before, we have fun year-round at Evosus Software, and the week preceding Spirit Week was no exception. Not only did we have a company barbecue during Spirit Week to celebrate the end of Q2 but we had a tie-dye event the Friday before in preparation of Tie Dye Day. All employees brought a clean white shirt, left the air-conditioned office building, and stood outside in the hot, blazing sun so they could tie-dye a shirt for the upcoming day.
Corey Holton, Senior Software Engineer and Grillmaster, posing with some juicy-looking hamburger paddies and brats. (Left)
The spread at the company barbecue, featuring homemade cookies and Texas-flavored chips (our Texan employee could not confirm whether these chips did, in fact, taste like Texas). (Center)
Evosus Software employees, sun-blinded and sweltering, happily tie-dyeing shirts. (Right)

Day 1: Tie Dye Day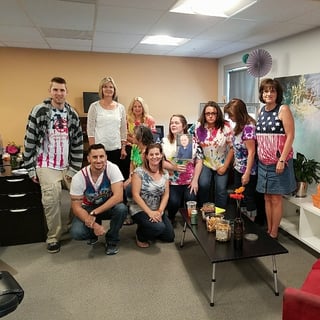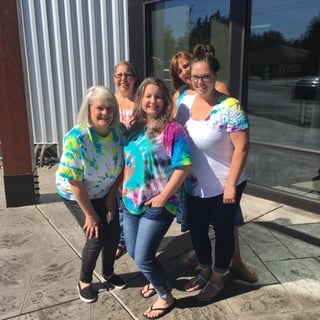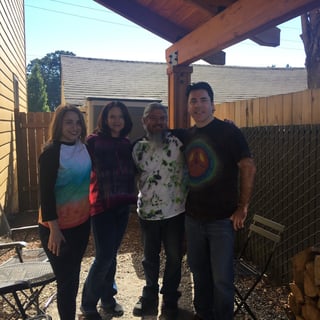 Evosus Spirit Week opened with Tie Dye Day, which had everyone looking groovy.
The Client Success Team, not knowing where to look, holds a picture of Galen Drake, Network Administrator, who will be missed. (He's not dead, we just miss him). (Left)
The Operations Team looks as sunny as the weather. (Center)
The Sales & Marketing Team cannot stand in direct sunlight for reasons completely unrelated to vampirism. Really. (Right)

Day 2: Flotation Device Day / Evosus's Birthday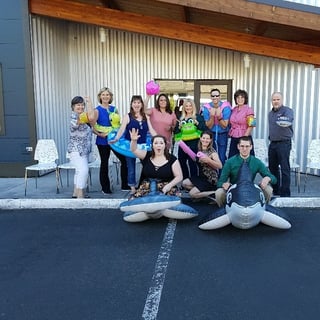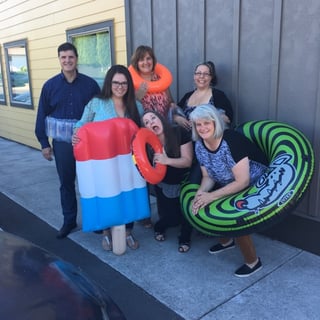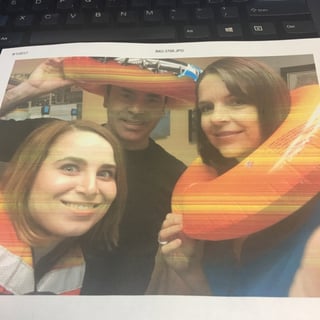 The second day of Spirit Week was Flotation Device Day. You might say that people had fun with this day.
Client Success shows that floatation devices come in all varieties, including orca, pool noodle, and football. (Left)
Operations model the latest in floatation fashion, with Curt Germundson, VP of Finance, wearing a very stylish bubble wrap belt. (Center)
Sales & Marketing is missing a member of their team, which again has nothing to do with vampirism. (Right)
Floatation Device Day was also Evosus's birthday (8/1). On this momentous day, everyone at Evosus celebrated sixteen years of success with cupcakes. Here is what Corey Holton, company founder, had to say on this special day:



Day 3: Orange & Teal Day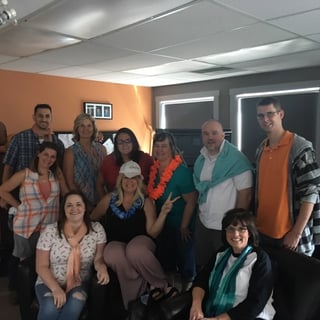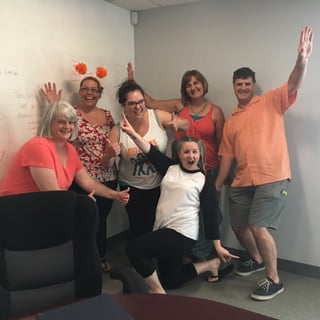 Orange & Teal Day was a little difficult, because how many orange and teal clothing items does the average person own? Regardless, Operations and Client Success came through.
Scarves, leis, shoulder cardigans -- Client Success has it all. (Left)
Operations get extra points for enthusiasm and color coordination. (Right)

Day 4: Fake an Injury Day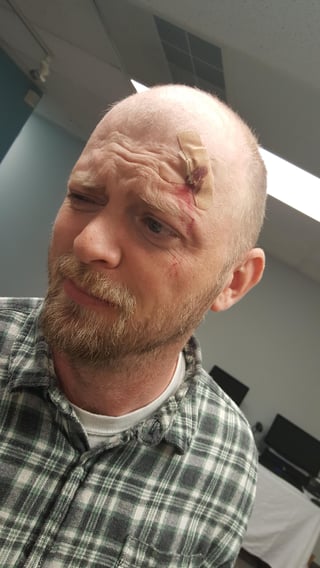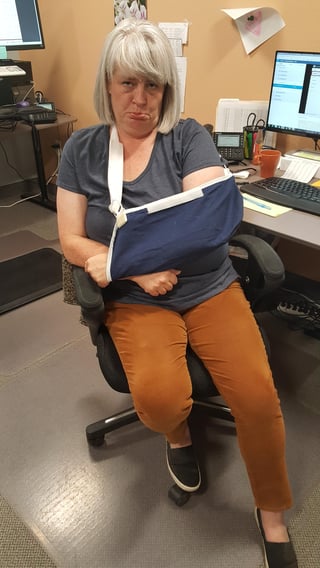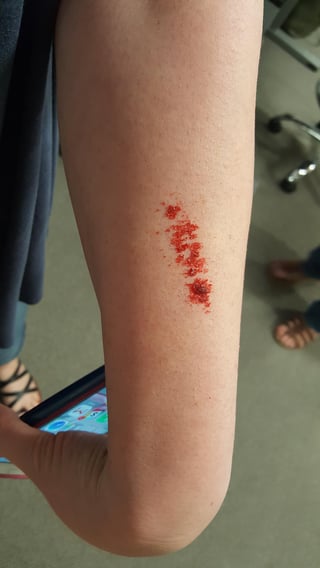 Did I say a little competition never hurt anyone?
Robert Norton, Release Manager, obtained this head injury after waking his wife from a dead sleep. (Left)
We warned Monica Jarnport, Payroll Specialist, not to wrestle that bear. (Center)
Leeonna Hinsley, Accounting & Operations Manager, received this scratch after trying to take candy from a baby. "Not as easy as it sounds," says Leeonna. (Right)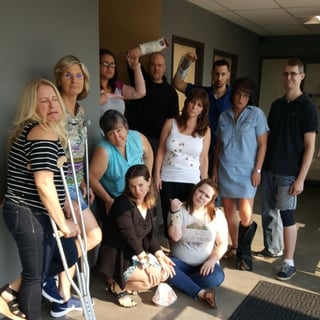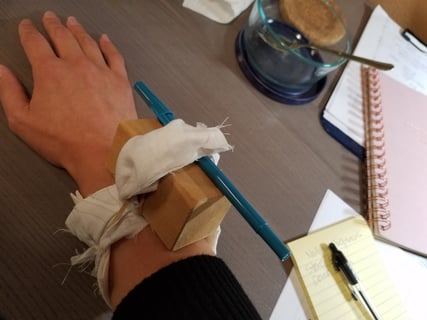 Client Success proves that you should not text and drive the Client Success Mystery Van at the same time. (Left)
"It's a metaphor," says Melissa Beatty, Training Manager. Can you figure out what the metaphor is? (Right)

Day 5: Crazy Sock Day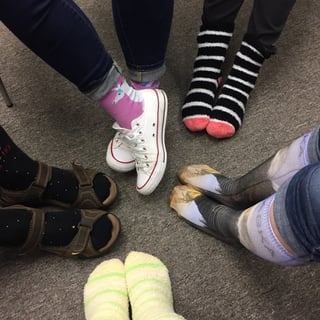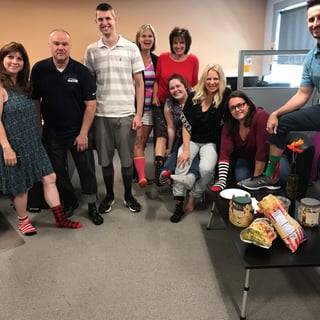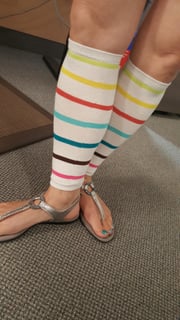 The final day of Evosus Spirit Week was Crazy Sock Day. Once again, Client Success (center) went all out, but Operations (left) did none too shabby. Meanwhile, Melissa Beatty (right) decided to wear footless socks, which some might call legwarmers.

Scavenger Hunt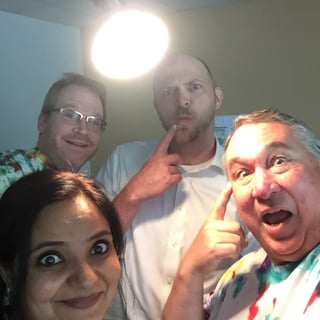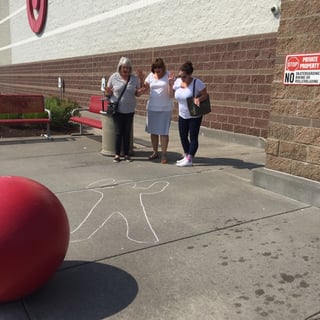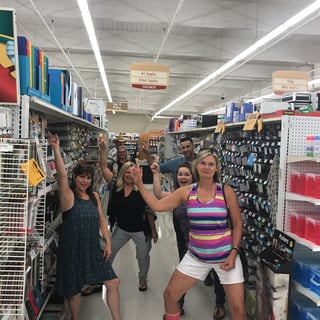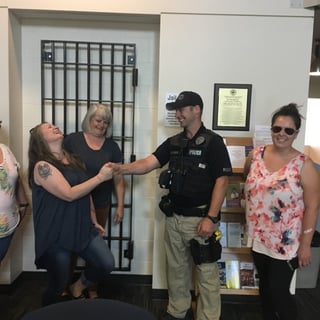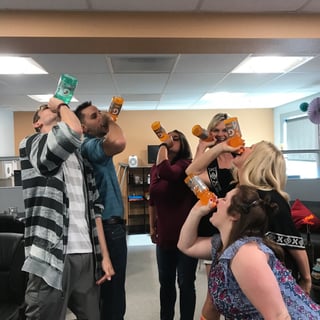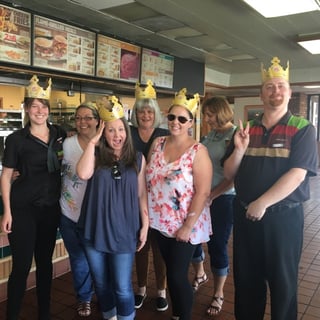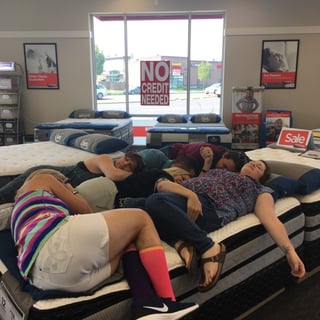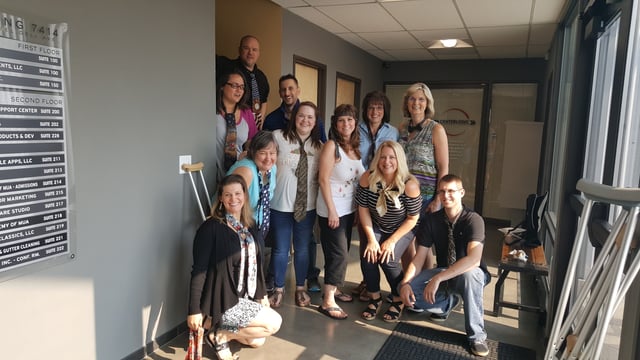 Alongside the themed days, each department competed in a scavenger hunt using the GooseChase app. For those of you unfamiliar with GooseChase, this app allows you to organize scavenger hunts using smartphone technology. These games come with missions, such as attending a specific event, for each participant to complete. After completing a mission, the participants unload evidence -- videos, photos, GPS coordinates, you name it -- into the GooseChase app for points. Whoever ends up with the most points wins!
In Evosus's case, it was department versus department. Each team competed in the scavenger hunt by taking group photos of completed missions. These missions were pretty ranged from zany (standing under a light) to ridiculous (flash mob).
Can you guess who ended up winning the scavenger hunt? (It was Operations).

Company Party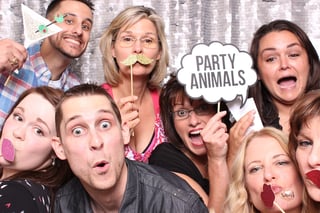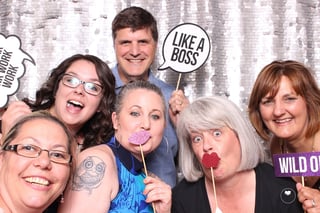 Evosus Spirit Week ended with our annual company party, which had all the usual things you'd expect at a company party: a photo booth, spouses, cupcakes, Martians, alcohol, meatballs, a freak boating accident, awards, and T-shirt gifting.
How does your company celebrate?