Every service manager and service personnel has some kind of system. When things get a little chaotic or sometimes fall through the cracks, we happen to know a very simple solution that could make your service team run smoother.
We know, all change requires a learning curve, and when you're already crazy busy, taking the time to put a new system in place can feel like the last thing you want to do. But, cross our heart, LOU will make it so much easier to manage your service schedule, keep your service personnel more organized, and enable you to offer your customers better service.
Get a Bird's-Eye View of Your Business
Don't you want to know exactly what service calls are scheduled for the day and what job every single one of your service personnel are handling at any given time?

Is your service manager ever left scrambling to cover service calls because your service personnel are overbooked? LOU can solve those problems for you.
With LOU, you get a bird's-eye view of the service schedule so you can see exactly what's on the calendar, which service personnel are scheduled where, and even if all of the service trucks are booked. From the LOU Dashboard, you simply press the Schedule "tile."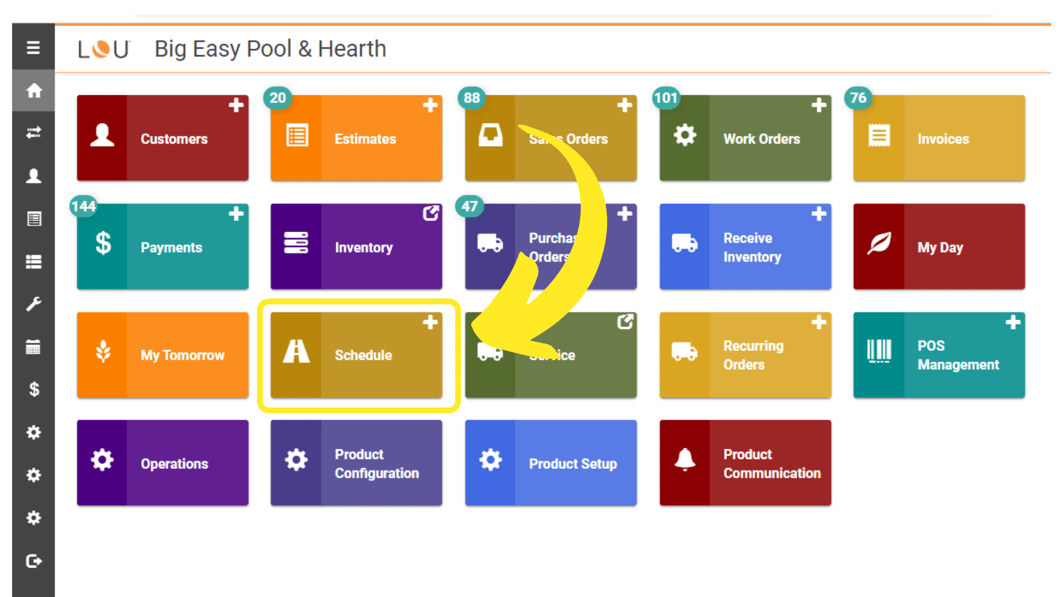 A clean, simple-to-understand Schedule Dashboard will display a calendar with the jobs you have scheduled.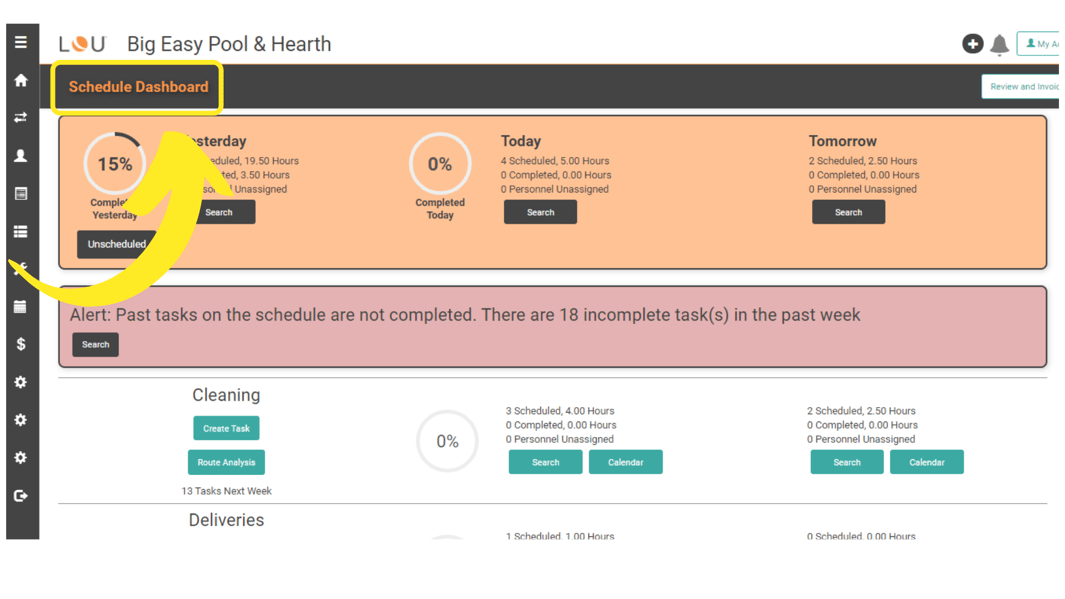 The system also recognizes if there's an issue with the schedule and will issue an alert. For instance, LOU will notify you if one of yesterday's jobs wasn't completed or a service truck is overbooked. Plus, you can review work orders, submit invoices, and more.
Have Happier Customers
We know your top goal is your customers' satisfaction with your service. What's good for your service department is good for your customers, too!
First, when your business is more organized, you can plan your day better. That means you can give your clients a smaller time frame to expect the service personnel arrival.......... instead of, say, "Monday, sometime between 8:00 am and … Friday." In fact, with LOU, your technicians can quickly send customers text alerts like, "On my way", "Arriving",or "Departed."
Technicians can also send a digital door hanger after they complete service and provide instant statements, invoices, and receipts.
Watch Your Service Personnel Excel
LOU simplifies processes for your service personnel. They'll spend less time keeping track of paperwork, taking notes, looking up addresses, and driving across town. (Did we mention LOU is integrated with Google Maps so it's easier to snag the navigation details and organize jobs by area?)
Instead of handwriting field notes (and won't your office team be happy they don't have to type those up anymore?), LOU will allow your field service personnel to enter task notes directly on the service job, upload pictures of damages and repairs, and more. This enables your service team to be more efficient at day-to-day tasks. You just may be surprised at how much faster your field team suddenly becomes when you switch to LOU!
Isn't it time you revoLOUtionized how your service business runs? In only a few months, pool season will kick off and you'll be busier than ever — LOU can help you be ready for the rush! Sign up for one of our live demos to learn more.