Picture it: Gohlke Pools, circa 2014. A proud pool business located in Tucson, Arizona, servicing roughly 250-350 pools a week and using pen-and-paper to do so. Every day, service techs would download and print route sheets from Evosus® Software, take those route sheets with them on the job, fill them out at the end of the day, and then hand them off to an office employee, who would then manually scan each route sheet the next morning and add all the tech notes to Evosus Software, one by one. Their pool and spa business needed a mobile service app, like yesterday.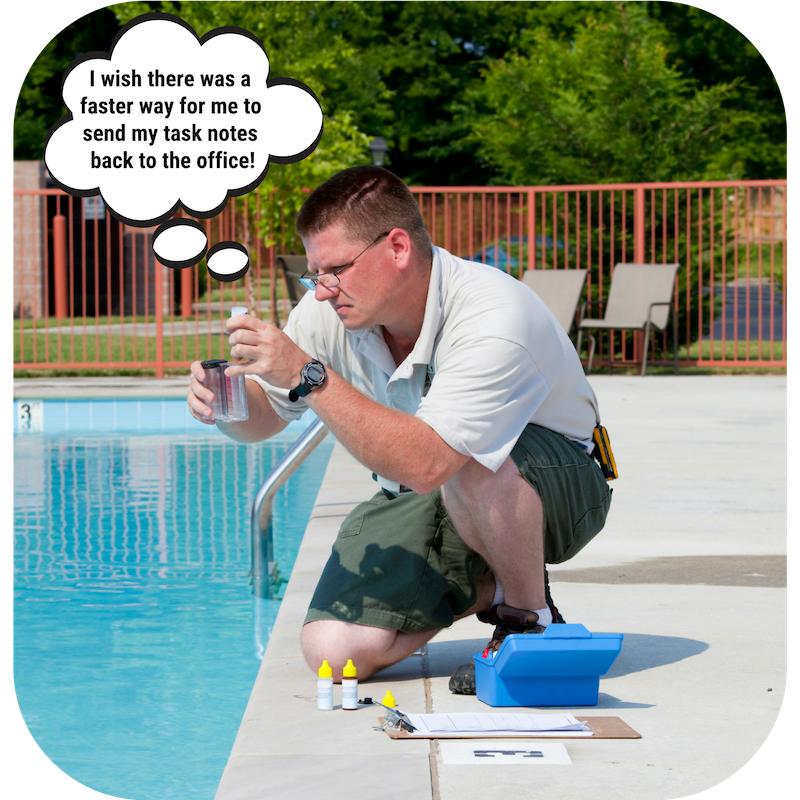 If that sounds like a nightmare to you, that's because it was. This method cost Gohlke Pools big time — 30 extra labor hours per week, to be exact. The amount of paperwork they accumulated was so massive, it needed its own room. Not only that, but this process created huge delays in terms of answering customer questions or responding to technical issues that appeared during an onsite. For example, if a tech wrote down that a pump wasn't working right at a client's house and it needed to be reordered, it might take the office staff one or two days for them to actually see that written note and then another day or two for the new pump to arrive.
Frustrated, Gohlke Pools decided it was time to go paperless in their pool and spa business and sought out a solution. Fortunately, they found one: Evosus Mobile Service.
Since adopting Evosus Mobile Service, Gohlke Pools has nearly DOUBLED its weekly service orders, going from 250-350 pools a week to 550-650 pools a week. To find out exactly how Evosus Mobile Service helped Gohlke Pools scale their business, we sat down with Nick Day, the Service Manager at Gohlke Pools, and asked him why they chose Evosus Mobile Service for their mobile platform.
Here are Nick Day's top five reasons why Gohlke Pools chose Evosus Mobile Service over paper:
1. Cost Savings
One of the biggest reasons why Gohlke Pools moved to Evosus Mobile Service (EMS) was for the cost-effectiveness. Prior to EMS, Gohlke Pools had their techs write every single thing down — from the notes they took on the job to the water testing results. At the end of the day, the techs would hand in the route sheets containing all their notes and an office employee would manually enter every single item of data into Evosus Software and Excel. Can you imagine how tedious and time-consuming this process was? And how stressful it would be if a tech's route sheet became damaged, lost, or was illegible?
With the Evosus Mobile Service app, techs can input their notes into the app itself and have those notes immediately visible to office staff. The convenience alone was worth its weight in gold to Gohlke. "Even if you had a service department using only one person, $25/month is a substantial saving on your time to capture all that data," said Nick Day, citing Evosus Mobile Service's $25/month/person fee.
2. Streamlining business processes with real-time data
In today's world, timing is everything. Customers expect immediate gratification and instantaneous solutions — even with their pool service. Which is why access to real-time data is another reason why Evosus Mobile Service has become a necessity for Gohlke Pools. While before it would sometimes take days for an office employee to see a tech's notes on their route sheet and follow-up, Evosus Mobile Service enabled a tech's notes to be accessible immediately upon upload to the app.
Nick Day provided this example: "If a service tech shows up to a job and the pump was down, the tech would immediately put that into their follow-up notes and the office would see that and act upon it. The office would put a work order in for that pump and a lot of times they can have it all ordered within one day."
3. Pictures
One of Nick Day's favorite features of Evosus Mobile Service is the ability to take and upload pictures."We take pictures of everything," says Nick Day. "If a customer comes in and wants a new skimmer lid but doesn't know what type, we can reference pictures we've taken of that customer's pool and know exactly what we need to order."
4. Data Collection
Even before going paperless, Gohlke Pools hoarded data. "We take note of everything," said Nick Day, who wasn't kidding. Even before EMS, an office employee would scan each tech's route sheet and input the collected data into Evosus Software and Microsoft Excel. With Evosus Mobile Service, Gohlke Pools is able to collect more data than ever before. Evosus Mobile Service makes it easy for techs to input water chemistry tests and other field notes into the app. Best of all, that information is easily accessible to techs when they're out in the field, allowing them to look for patterns in the data and make proactive decisions based on it.
I cannot imagine the amount of behind-the-scenes work it would take to capture the same data and make it easily accessible for the entire company for only $25/month. At this point, there is no life without Evosus Mobile.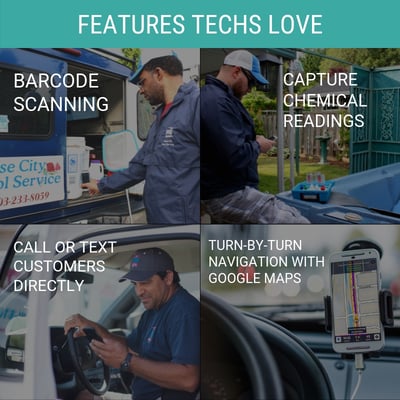 5. Useful features for techs
It isn't just about the office staff — there are Evosus Mobile features that the field techs love, too. Time-saving, cost-effective features such as…
The ability to scan barcodes in the field
Capture chemical and equipment readings
View client troubleshooting interviews
Access the recent service history for customers
Record tech notes and visit information
View real-time tech schedules
Turn-by-turn navigation with Google Maps
The ability to call or text a customer directly from within the app
All these features and more enable techs to be more efficient and confident in their work — no being put on the spot by a customer's questions, waiting for the office to call back, or confusion.
In closing, we asked Nick Day if he sees mobile technology as a necessity for the modern pool and spa business. Naturally, he said yes.
As far as necessity, when it comes to speed mobile is invaluable. Customers want instantaneous solutions — no downtime, no waiting for weeks for parts to come. Two years ago we were in the neighborhood of cleaning 250-350 pools a week and now we're almost double that amount. I don't see how you could scale your business without it. Evosus Mobile makes it really easy to grow without having to add a lot of back-end support.
---
As the creators of Evosus Mobile Service, it's extremely gratifying to hear from a customer how our product has benefited their business. Talking to Nick Day reminded us why we do what we do: building software that helps pool, spa and hearth businesses succeed.
If you're interested in learning more about Evosus Mobile Service and what it can do for your business, you're in luck — from February 1st through 28th, we're offering a 30 day risk-free trial of Evosus Mobile Service. We're even throwing in free access to our brand-new tech training course on Evosus Mobile.
Sound too good to be true? It isn't. Contact your Evosus Client Success Manager today to learn more!